Posted December 16, 2020
Dear Reader,
It's less than two months until my next book comes out, and I am sooo excited for you to read The Vineyard at Painted Moon! My editor at Harlequin told me that she feels like this book marks a powerful shift in my storytelling, and I'm very curious to see whether you agree. The Vineyard at Painted Moon has all the elements you love about my books—romance, humor, emotions—but the scope of the story does feel bigger somehow. Maybe because the Barcellona family is so complex. Three generations of winemakers, making the world a better place one bottle at a time.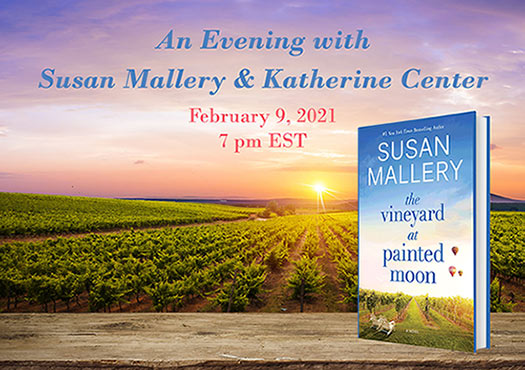 To celebrate the release of The Vineyard at Painted Moon, seven independent bookstores have teamed together to present a One Night Only virtual event. I'll be in conversation with author Katherine Center, a bright and shining star of women's fiction. Katherine's books are emotional and funny and thought-provoking, and I can't wait to talk to her and to you about writing, books, heartaches, and humor. It is a ticketed event, to support the independent bookstores that mean so much to us all. Each ticket comes with an exclusive signed copy of The Vineyard at Painted Moon. I'm also giving away seven raffle prizes—one customer from each participating bookstore will win a Rosé All Day Bento Box from Sugarfina plus a beautiful art glass moon wine stopper.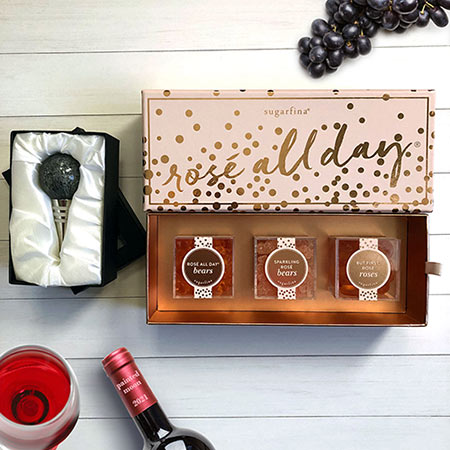 GET YOUR TICKET—and your signed copy of The Vineyard at Painted Moon—NOW
Bank Square Books (Mystic, CT)

Best of Books (Edmond, OK)

Bethany Beach Books (Bethany Beach, DE)

Fiction Addiction (Greenville, SC)

FoxTale Book Shoppe (Woodstock, GA)

Left Bank Books (St. Louis, MO)

Writers Block Bookstore (Winter Park, FL)

I would love to see you there!
---