Posted December 12, 2018
Dear Reader,
I hope you're enjoying the holiday season and are looking forward to lots of time with the people you love. During this season when many of us get rushed and harried, it can be easy to feel overwhelmed, so I encourage you to schedule quiet time to reflect and hey, maybe read a good book.
I have four advanced copies of California Girls to give away!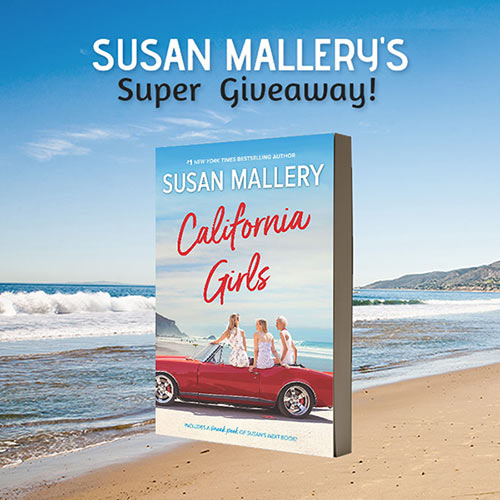 Three will go to a member of my mailing list—so you're already entered. The final copy will go to a member of the Susan Mallery All Access group on Facebook. If you're not a member of the group yet, you can join HERE.
Check the Contest page at SusanMallery.com on December 21 to see if you won. If you did, you have to claim your prize by sending me your mailing address, so it's really important that you don't forget to check the page. Set yourself a reminder now.
Meanwhile, you can preorder California Girls now. It comes out on February 26, so you'll have plenty of time to cancel your preorder if you win the contest. Then register your preorder to get five entries for a chance to win a copy of my next-next book, The Summer of Sunshine and Margot.
Register your preorder HERE! (No purchase necessary--there are several other ways to enter, as well.)
---
The California sunshine's not quite so bright for three sisters who get dumped in the same week…
Finola, a popular LA morning show host, is famously upbeat until she's blindsided on live TV by news that her husband is sleeping with a young pop sensation who has set their affair to music. While avoiding the tabloids and pretending she's just fine, she's crumbling inside, desperate for him to come to his senses and for life to go back to normal.
Zennie's breakup is no big loss. Although the world insists she pair up, she'd rather be surfing. So agreeing to be the surrogate for her best friend is a no-brainer—after all, she has an available womb and no other attachments to worry about. Except…when everyone else, including her big sister, thinks she's making a huge mistake, being pregnant is a lot lonelier—and more complicated—than she imagined.
Never the tallest, thinnest or prettiest sister, Ali is used to being overlooked, but when her fiancé sends his disapproving brother to call off the wedding, it's a new low. And yet Daniel continues to turn up "for support," making Ali wonder if maybe—for once—someone sees her in a way no one ever has.
But side by side by side, these sisters will start over and rebuild their lives with all the affection, charm and laugh-out-loud humor that is classic Susan Mallery.
---
WANT TO GET A SUSAN MALLERY BOOK FOR CHRISTMAS?
In my last newsletter, I announced the new SAVE YOUR BOOK LIST feature. On the Available Now page of my website, you can mark each book as Read, Haven't Read, or Not Sure. You can save your own personal book list, update it as you read new books, and even print it.
Now… it's even better! Because now when you SAVE YOUR BOOK LIST, you'll have the option of signing up for a Gift Registry, as well. You can send an email to the people who love you with a list of just those books you marked Haven't Read!
Visit the Available Now page to give it a try. The most important first two steps are to 1) click the OPEN BOOK LIST FEATURE button; and 2) read the instructions.
2018 CHRISTMAS ORNAMENT GIVEAWAY
Congratulations to the winners of the 2018 Christmas ornament contest! Winners' names have been posted on the Contest page at SusanMallery.com, and ornaments have been mailed to the address each winner provided in the entry form.
Blessings to you and your family.
P.S. Watch my Facebook page on Friday at 1 pm EST/12 pm CST/11 am MST/10 am PST for a fun surprise early Christmas gift for my readers! You do not want to miss this.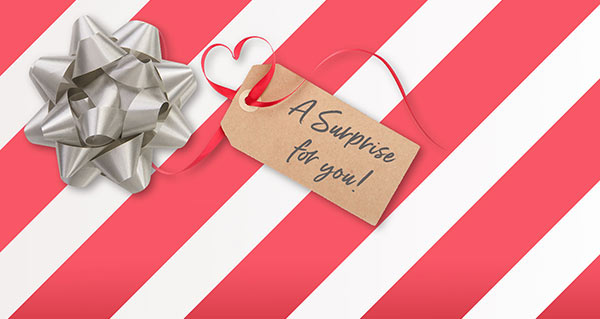 ---