Posted August 10, 2022
Dear Reader,
In the lifecycle of a book, one very exciting moment is when I can tell my readers about it for the first time. Today, I'm thrilled to tell you about my first book of 2023, The Sister Effect, which will be out in hardcover, ebook and audiobook early next year. This story is one of those grab-you-by-the-heart stories that is both one of the most wrenching stories I've ever written, and one of the funniest. (Just wait until you hear what Jericho's brother does–and with whom! You'll laugh-gasp.) And it has one of the most satisfying, feel-good happy endings.
After so many books, it's risky to make predictions like this, but I'm going to throw caution to the wind and tell you that I believe The Sister Effect will quickly become a reader-favorite.
THE SISTER EFFECT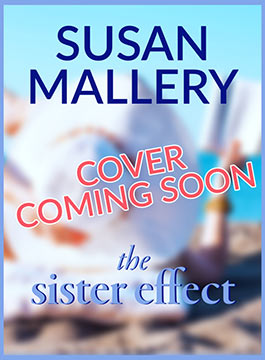 Finley McGowan is determined that the niece she's raising will always feel loved and wanted. Unlike how she felt after her mom left to pursue a dream of stardom, and when the grandfather who was left to raise them abandoned her and her sister, Sloane, when they needed him most. Finley reacted to her chaotic childhood by walking the straight and narrow—nose down, work hard, follow the rules.
Sloane went the other way.
Now Sloane is back, as beautiful and as damaged as ever…and she wants a relationship with her daughter. She says she's changed, but Finley's heart has been burned once too often for her to trust easily. But is her reluctance to forgive really about Sloane or worry over losing what she loves the most? With the help of a man who knows all too well how messy families can be, Finley will learn there's joy in surrendering and peace in letting go.
Beloved bestselling author Susan Mallery—with wisdom, compassion and her trademark humor—explores the nuances of a broken family's complex emotions as they strive to become whole in this uplifting story of human frailty and resilience.
PREORDER IN PRINT: Amazon | B&N | Books a Million | Target
PREORDER THE EBOOK: Kindle | Apple Books | Nook | Google Play | Kobo
HOME SWEET CHRISTMAS
But The Sister Effect isn't my next book–that honor goes to Home Sweet Christmas, which will be out on October 4. With two romances in one heartwarming book, Home Sweet Christmas will be just the thing to get you into the holiday spirit.
In July, I invited you to submit cookie recipes for a free Christmas Cookie Cookbook I'll be giving away during the holiday season. Thank you so much to those who generously shared your favorite. The cookbook will be offered as a free digital download to every member of my mailing list, so stay tuned. Meanwhile, I hope you'll preorder Home Sweet Christmas if you haven't already done so.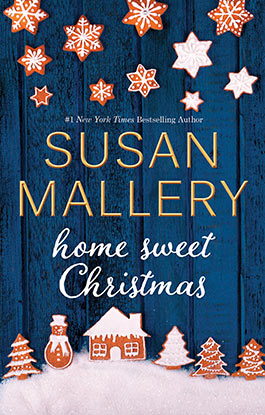 With twinkling humor and heartfelt Christmas spirit, two friends find love in a town called Wishing Tree…
Until Camryn Neff can return to her "real" life in Chicago, she's in Wishing Tree to care for her twin sisters. She's not looking for forever love, not here. But handsome hotelier Jake Crane is a temptation she can't resist, so she suggests they pair up for the season. No golden rings, no broken hearts. At his side, she sees her hometown through Christmas-colored eyes. The cheer is cheerier, the joy more joyful. She thought she had put her future on hold…but maybe her real life was here all along, waiting for her to come home.
New in town, River Best is charmed by Wishing Tree's homespun traditions and warmhearted people. When she's crowned Snow Queen, she's honored but wary. Dylan Tucker, her king, seems like the stuff of sugarplum dreams, but she can't shake the feeling that he's hiding something big. As they perform their "royal" duties—tasting cookies, lighting trees—Dylan's good humor and melty kisses draw her to the brink of love. But she can't let herself fall until she uncovers his secret, even if her lack of faith means losing him forever.
PREORDER IN PRINT: Amazon | B&N | Books a Million | Bookshop.org | Target | Walmart
PREORDER THE EBOOK: Kindle | Apple Books | Nook | Google Play | Kobo
THE FRIENDSHIP LIST
The Friendship List will be out in mass market paperback in two weeks with a sun-drenched, colorful new cover! Isn't this stunning?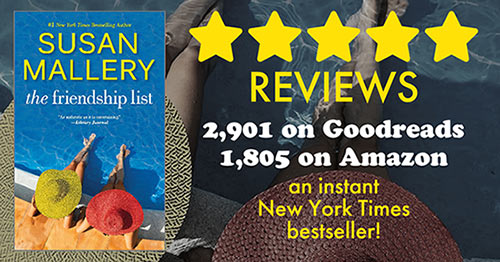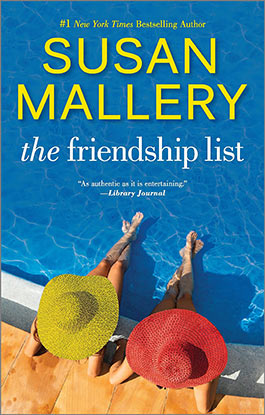 Two best friends jumpstart their lives in a summer that will change them forever. . .
Single mom Ellen Fox couldn't be more content—until she overhears her son saying he can't go to his dream college because she needs him too much. If she wants him to live his best life, she has to convince him she's living hers.
So Unity Leandre, her best friend since forever, creates a list of challenges to push Ellen out of her comfort zone. Unity will complete the list, too, but not because she needs to change. What's wrong with a thirtysomething widow still sleeping in her late husband's childhood bed?
The Friendship List begins as a way to make others believe they're just fine. But somewhere between "wear three inch heels" to "have sex with a gorgeous guy," Ellen and Unity discover that life is meant to be lived with joy and abandon, in a story filled with humor, heartache and regrettable tattoos.
PREORDER THE MASS MARKET PAPERBACK: Amazon | Barnes & Noble | BAM | Target | Walmart | Bookshop
BUY THE EBOOK: Kindle | Nook | Google Play | Apple Books | Kobo
---