Posted August 5, 2021
Dear Reader,
Every book goes through a series of milestones—first draft, revisions, that kind of thing. One of the most exciting milestones in the life of a book is the cover reveal—and I am absolutely in love with the cover of The Summer Getaway, my first book of next year!
In love!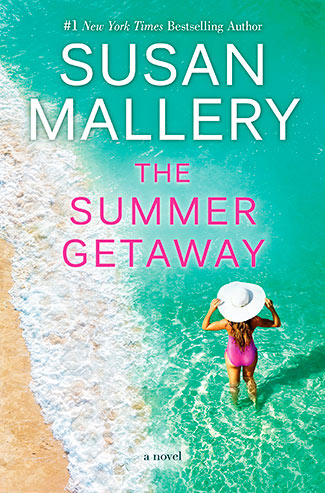 The Summer Getaway will be available on March 15, but you can preorder it now if you find this cover irresistible.
One woman discovers the beauty in chaos in this poignant and heartwarming story about the threads that hold family together from #1 New York Times bestselling author Susan Mallery.
With her divorce settlement about to run out and a mortgage she can't afford, Robyn Caldwell needs a plan for her future. She nurtured her family and neglected herself. But how's she supposed to think when her daughter has become the most demanding bride ever, her son won't even consider college, her best friend is on the brink of marital disaster and her ex is making a monumentally bad decision that could bring everything crashing down on Robyn's head? So when her great-aunt Lillian invites her to Santa Barbara for the summer, Robyn hops on the first plane.
But it's hard to run away when you're the heart of the family. One by one, everyone she left behind follows her across the country. Somehow, their baggage doesn't feel as heavy in the sun-drenched, mishmash mansion. The more time Robyn spends with free-spirited Lillian, the more she sees the appeal in taking chances—on dreams, on love, on family. Life is meant to be lived on purpose. All she has to do is muster the courage to take a chance on herself.
PRE-ORDER THE HARDCOVER: Amazon | Barnes & Noble | BAM | Target | Bookshop
PRE-ORDER THE EBOOK: Kindle | Nook | Google Play | Apple Books | Kobo
THE CHRISTMAS WEDDING GUEST
You don't have to wait until March for a new book from me. Next month, The Christmas Wedding Guest will be out—the first full-length novel in my new series of Christmas romances, Wishing Tree. (Say You'll Stay, an ebook novella, came out last month.)
Wishing Tree is an adorable, quirky small town filled with lovable people (and animals), in the tradition of Fool's Gold and Happily Inc. The town knows how to celebrate the holidays in style, with traditions all its own. I hope you'll fall in love with Wishing Tree.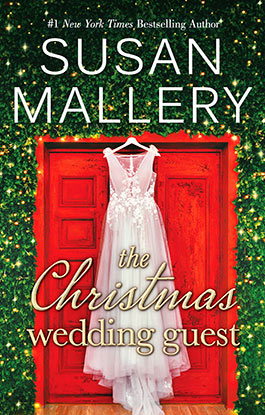 Susan Mallery, author of the Fool's Gold romances, cheerfully invites you to Wishing Tree, where Christmas comes to life…
The Somerville sisters believe in love, but they've lost faith it will happen for them. Reggie hasn't been home since the end of the world's shortest engagement. When her parents decide to renew their vows, she buffs up her twinkle to help with the Christmas wedding. Unexpectedly, Toby, her first love, is back too, and the spark between them shines as brightly as ever. In the spirit of the season, will they let go of past hurts and greet the new year together?
Done waiting for the one, Dena is pregnant and on her own—on purpose. But then a gorgeous, sad-eyed songwriter checks into a room at her inn. Micah, unable to write since he lost his wife, finds inspiration in Dena's determination to be a mom. One snowflake-speckled kiss and he's a goner. But Dena is afraid to believe that a rock star could fall for a cookie-cutter small-town girl like her.
As the Christmas wedding draws closer, these two sisters just might unwrap the most treasured gift of all…love.
PRE-ORDER THE PAPERBACK: Amazon | Barnes & Noble | BAM | Target | Bookshop
PRE-ORDER THE EBOOK: Kindle | Nook | Google Play | Apple Books | Kobo
Keep an eye on my upcoming newsletters—I will be hosting one of the biggest giveaways ever, giving away 5,000 beautiful Wishing Tree ornaments to launch my new series in style. You don't want to miss your chance!
---