Posted April 30, 2019
Dear Reader,
I'm going on book tour this summer, and I want to meet YOU! Keep reading for all the details. But first. . .
When We Found Home is now available in paperback! This book originally came out last year in hardcover, ebook and audiobook and got rave reviews from critics.
"A compelling contemporary fairy tale" – Booklist (American Library Association)

"[H]eartwarming...will appeal to readers who enjoy the intricacies of family drama." – Publishers Weekly
I love those, but what I love even more is that this book is a hit with readers like you.
4.8 out of 5 stars – Barnes & Noble
4.6 out of 5 stars – Amazon
95% of people liked it - Goodreads
And now it has a fun and eye-catching new cover.
---
Becoming a family will take patience, humor, a little bit of wine and a whole lot of love.
After life knocked Delaney Holbrook sideways, she didn't get down—she got busy. She went back to school, determined to reinvent herself. She even swore off men in suits. But then one particular man in one very fine suit proves too tempting to resist—Malcolm Carlesso, CEO of a family-owned food company. Malcolm's life has been complicated by the arrival of two half sisters he's never met…and isn't sure he wants around. How can Delaney trust a man who keeps his own sisters at such a distance?
Alone in the world, Callie Smith never expected to find a family. Suddenly she's living in a house the size of a small country with her stuffy and aloof new brother and streetwise sister, wondering whether this place—and these people—will ever feel like home. Just as she's beginning to get settled, a new opportunity presents itself, daring her to dream of more…until her past threatens to take it all away.
Friends brought together by chance, Delaney and Callie will soon discover the closest families are bonded by choice—not by blood—in this uplifting story from the consistently unputdownable Susan Mallery.
---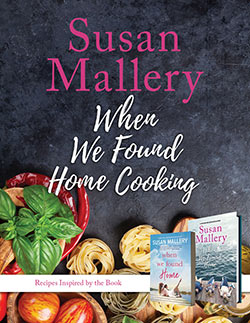 GIFT WITH PURCHASE
Last year, when When We Found Home came out in hardcover, I created a digital cookbook filled with delicious Carlesso family Italian recipes, inspired by the book. This cookbook is my gift to all readers who purchase When We Found Home. (If you bought it last year, this offer is for you, too!) Purchase When We Found Home in any format (hardcover, paperback, ebook or audiobook) then claim your free digital cookbook HERE.
Recipes include:
1.    Canneloni Cream Cheesecake
2.    Shrimp Fra Diavlo
3.    Malcolm's Guilty Pleasure Pork Chops
4.    Linguine with Garlic and Mushrooms
5.    . . . and lots more!
---
MEET ME IN ST LOUIS… OR CLEVELAND, DENVER OR SEATTLE
When The Summer of Sunshine and Margot comes out on June 11, I'm hitting the road and heading on book tour, with four stops all across the country. I would love to meet you!
June 11, 7 pm – BOOK SIGNING: CLEVELAND
Q&A with Susan Mallery, book signing, and raffle prizes. Co-hosted by Mac's Backs-Books and the Cuyahoga County Library
Parma-Snow Branch
2121 Snow Road
Parma OH 44134
Registration required here.

June 12, 7 pm – BOOK SIGNING: ST LOUIS
Q&A with Susan Mallery, book signing, and raffle prizes. Co-hosted by Left Bank Books and the St Charles City-County Library
Spencer Road Branch
427 Spencer Rd
St Peters MO 63376
Tickets required here.

June 13, 7 pm – BOOK SIGNING: DENVER
Q&A with Susan Mallery, book signing, and raffle prizes. Co-hosted by Tattered Cover Bookstore and Aurora Public Library
Aurora Fox Arts Center
9900 E Colfax Ave
Aurora CO 80010
Registration required; will begin May 10 here.

June 22, 3 pm – BOOK SIGNING: SEATTLE
Q&A with Susan Mallery, book signing, and raffle prizes. Co-hosted by University Books and Seattle Public Library
University Bookstore – U District Store
4326 University Way NE
Seattle WA 98105
More information here.



GET WHAT YOU WANT FOR MOTHER'S DAY
Mother's Day is less than two weeks away. Wouldn't you love to get a book or two that you know you're going to love? Use my website's Gift Registry feature to tell your family what you really, really want. Go to SusanMallery.com/available-now.php. First you need to make your Book List, then you can send your gift registry to people who love you most.
---
COMING JUNE 11th
The Baxter Sisters have only ever had one another—until one fateful summer when Sunshine and Margot turn disastrous luck into destiny…
Etiquette coach Margot Baxter knows precisely how to manage wayward clients…until she comes face-to-exquisite-face with Bianca, an aging movie star notorious for her shock-and-awe tactics. Schooling Bianca on the fine art of behaving like a diplomat's wife is the greatest challenge of Margot's career. Soon, secrets unravel that bring them closer together and force Margot to confront the truth: Change doesn't just happen. She has to be brave enough to demand the life—and love—she's always wanted.
For years, Sunshine has been the good-time sister, abandoning jobs to chase after dreams that will never come true. No more. She refuses to be "that girl" again. This time, she'll finish college and dedicate herself to her future. And she 100 percent will not let her life get derailed by a man again…no matter how tempting that man may be.
Master storyteller Susan Mallery weaves threads of family drama, wit, heart, and a wish-you-were-there setting into one of the most satisfying books of the year!
---