Posted April 27, 2021
Dear Reader,
Before Summer Ends is available today in print and ebook! It came out in September 2020 as an Audible exclusive, so if you haven't listened to it between September and now, you haven't read it. I adored writing this story, pure, uplifting romance. Nissa has had a crush on her brother's best friend for years. So far, she's held it together pretty well—he has no idea about her feelings. But how is she supposed to keep them a secret when she's going to be living in his house the whole summer?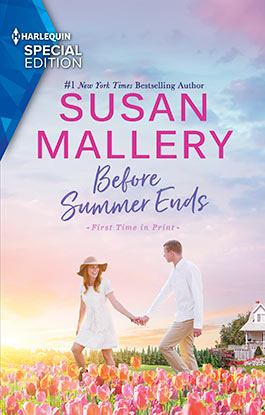 A long, hot summer with her secret crush… What could possibly go wrong?
Nissa Lang knows Desmond Stilling is out of her league. He's a CEO, she's a teacher. He's gorgeous, she's…not. So when her house-sitting gig falls through and Desmond offers her a place to stay for the summer, she vows not to reveal how she's felt about him since their first—and only—kiss.
Desmond should've known better than to bring temptation into his house. He decided long ago that his best friend's sister was too sweet, too good, for him. She deserves a guy who can give his heart. For her sake, he's stayed away. But as her laughter breathes life into his lonely mansion, he's not sure how long he'll be able to resist.
ORDER THE PAPERBACK: Amazon | Barnes & Noble | BAM | Target | Walmart
ORDER THE EBOOK: Kindle | Nook | Google Play | Apple Books | Kobo
ORDER THE AUDIO BOOK: Audible
YOU ARE INVITED . . .
. . . to The Stepsisters virtual launch party! Join me and my very special guest, the amazing author Robyn Carr, on Tuesday, May 25 at 7 pm Eastern/ 6 pm Central /5 pm Mountain /4 pm Pacific to help us celebrate the release of The Stepsisters, my latest novel. Robyn and I will give you the insider's scoop on our latest books, with insight into how we create our characters and craft the stories you love. And we'll do a Live Q&A with you, answering just about anything you want to ask.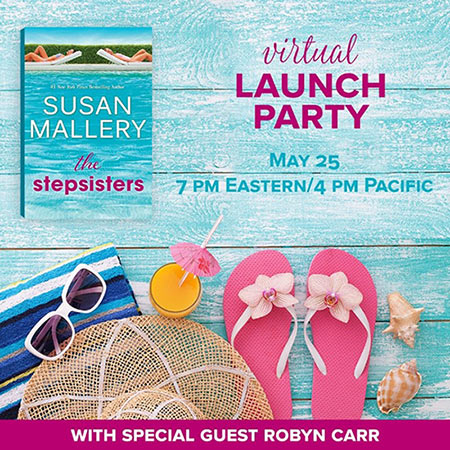 Robyn was one of the last authors with whom I did a live event before the pandemic, and let me tell you, she is funny. (You probably know that from reading her books.) We're going to have a terrific time together, and we'd love for you and your best girlfriends to be a part of it.
To get a ticket,click GET YOUR TICKET TODAY and buy The Stepsisters from one of the four participating independent bookstores listed on that web page. The first 20 purchasers from each store will receive a limited edition The Stepsisters brass bookmark. Everyone who signs up will receive a print copy of The Stepsisters, a limited edition bookplate signed by me, and a fabulous digital goodie bag with bonus content you won't find anywhere else, plus entry into a raffle to win 1 of 4 beach bag door prizes.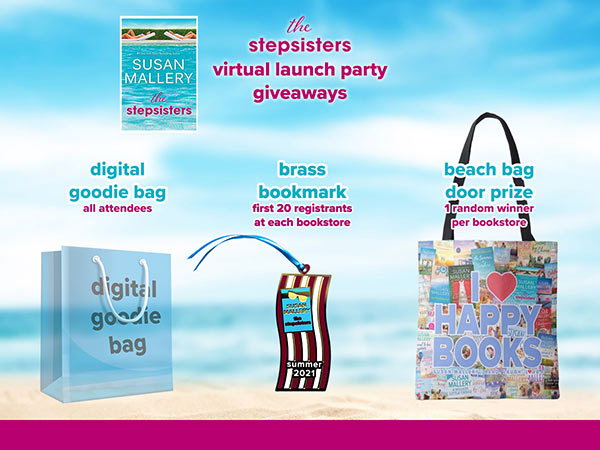 ---