Posted April 20, 2021
Dear Reader,
Every time I release a new book, I invite readers to sign up for the open slots on my Review Crew. What's the Review Crew, you ask? It's a group of 200 lucky readers who get each of my new releases for free—in print! If they read the book and post reviews on at least two websites before the deadline, then they keep their spot for the next book. We have some Review Crew members who have been getting my books for free since 2013, but we almost always have at least a few readers who miss the deadine or who drop out for one reason or another. The point being, there are some open slots for The Stepsisters, and this is your chance!
Sign up now on the Contest page at SusanMallery.com.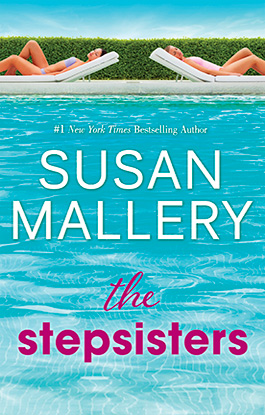 #1 New York Times bestselling author Susan Mallery pens a love story of a different sort...a heartfelt tale of friendship between two women who used to be sisters.
Once upon a time, when her dad married Sage's mom, Daisy was thrilled to get a bright and shiny new sister. But Sage was beautiful and popular, everything Daisy was not, and she made sure Daisy knew it.
Sage didn't have Daisy's smarts--she had to go back a grade to enroll in the fancy rich-kid school. So she used her popularity as a weapon, putting Daisy down to elevate herself. After the divorce, the stepsisters' rivalry continued until the final, improbable straw: Daisy married Sage's first love, and Sage fled California.
Eighteen years, two kids and one troubled marriage later, Daisy never expects--or wants--to see Sage again. But when the little sister they have in common needs them both, they put aside their differences to care for Cassidy. As long-buried truths are revealed, no one is more surprised than they when friendship blossoms.
Their fragile truce is threatened by one careless act that could have devastating consequences. They could turn their backs on each other again...or they could learn to forgive once and for all and finally become true sisters of the heart.
PRE-ORDER THE PAPERBACK: Amazon | Barnes & Noble | BAM | Target | Walmart | Bookshop
PRE-ORDER THE EBOOK: Kindle | Nook | Google Play | Apple Books | Kobo
SAVE THE DATE
I wanted to give you a heads-up about The Stepsisters virtual launch party, May 25 at 7 pm Eastern/4 pm Pacific. And guess who's going to be there to help us celebrate the release of The Stepsisters—Robyn Carr! Robyn is charming and laugh-out-loud funny, and we always have a good time when we get together. Join us for a no-holds-barred live conversation about the friendships we've made, the stories we've told, and the stories we've yet to put on the page. We'll be happy to answer (almost) any question, too.
I'll be back in touch very soon with details on how you can get a ticket. (To get a ticket, you'll purchase a copy of The Stepsisters from one of the participating independent bookstores.) Keep a close eye on my newsletters because the first 20 purchasers from each store will receive a limited edition The Stepsisters brass bookmark. And everyone who signs up will receive a digital goodie bag with exclusive bonus content, plus entry for 1 of 4 fun beach bag door prizes.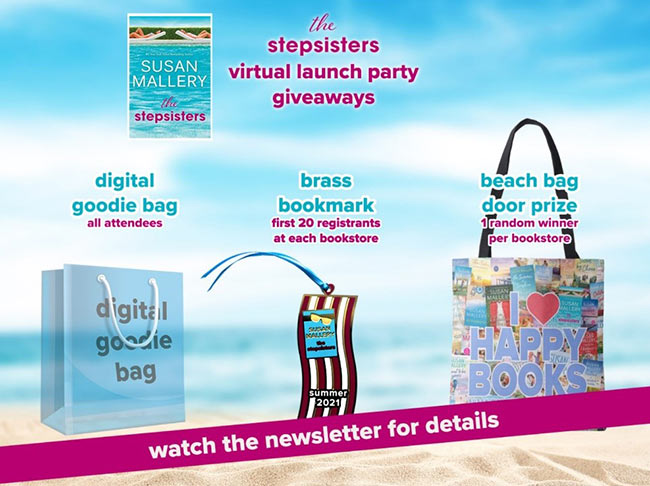 BEFORE SUMMER ENDS
Just one week to go until Before Summer Ends is available in print and ebook for the first time, after coming out last year as an Audible exclusive. Nissa is named after a reader I met at a book signing. (Hi, Nissa!) Before Summer Ends is pure romance, a friends-to-forever-love story that I know will warm your heart.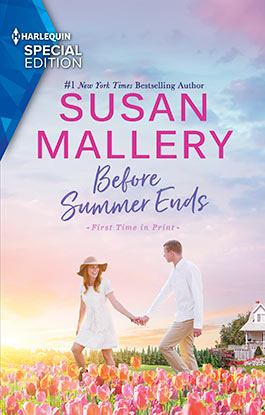 Because it's being released by Special Edition, the print book will have a limited shelf life. If you want it in print, you should grab it as soon as you see it because it might not be there the next time you go to the store. Or you can preorder it, of course.
A long, hot summer with her secret crush… What could possibly go wrong?
Nissa Lang knows Desmond Stilling is out of her league. He's a CEO, she's a teacher. He's gorgeous, she's…not. So when her house-sitting gig falls through and Desmond offers her a place to stay for the summer, she vows not to reveal how she's felt about him since their first—and only—kiss.
Desmond should've known better than to bring temptation into his house. He decided long ago that his best friend's sister was too sweet, too good, for him. She deserves a guy who can give his heart. For her sake, he's stayed away. But as her laughter breathes life into his lonely mansion, he's not sure how long he'll be able to resist.
PRE-ORDER THE PAPERBACK: Amazon | Barnes & Noble | BAM | Target | Walmart
PRE-ORDER THE EBOOK: Kindle | Nook | Google Play | Apple Books | Kobo
ORDER THE AUDIO BOOK: Audible
---