November 27, 2001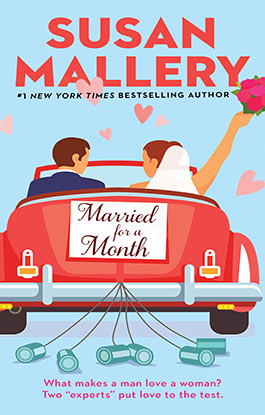 Standalone Women's Fiction
Reissued: January 2023
Two former lovers argue over the key to everlasting love in this charming, funny, and steamy romance from the "one of a kind" (RT Book Reviews) author Susan Mallery.
Taylor McGuire, a hardworking single mom with a PhD in psychology, believes that compatibility is the key to a successful marriage. Bestselling relationship guru Jonathan Kirby believes it's sexual chemistry. So when these two former lovers meet up on national TV, it's more than just a difference of expert opinion that sets the sparks flying between them.
And when Taylor puts forth her theory on love, Jonathan can't help but challenge: "Want to bet?" So begins an unconventional contest—forty couples involved in a monthlong mock marriage for a chance to win one million dollars—which puts Taylor's and Jonathan's professional reputations on the line. As the competition heats up, so does the attraction. And as they fall for each other, the two experts realize that love is not a science...sometimes it's just magic.