Posted May 25, 2020
Dear Reader,
I've never been to a book signing with 1,000 people before—until last week's stop on my virtual book tour. Although I really miss being able to connect with my readers face-to-face right now, it's pretty wonderful to be able to reach so many of you at one time. And to do it in support of the independent bookstores that need our support now more than ever.
Join me, Robyn Carr, and Julia London this Wednesday, May 27 at 7 pm EST (6 pm CST, 5 pm MST, 4 pm PST) for Romance for the Ages, hosted by the fabulous Tattered Cover Bookstore. The event will stream live on their YouTube channel. We'll chat about our latest books, where we find inspiration, what's happening with us personally… and we'll answer your questions. Readers won't be on camera, so it's a true come-as-you-are party. You never know who might stop by!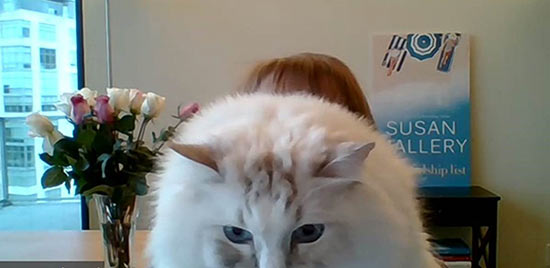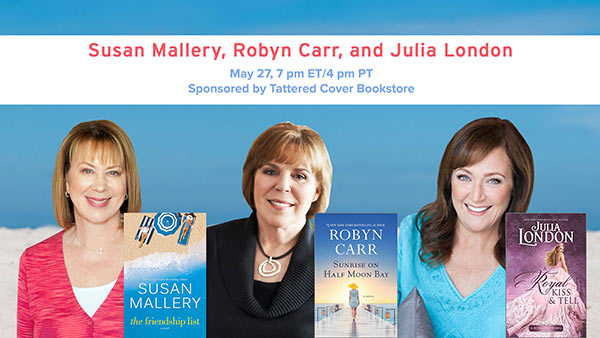 WEDNESDAY, MAY 27
7 pm ET – 6 pm CT – 5 pm MT – 4 pm PT
ROMANCE FOR THE AGES, with Susan Mallery, Robyn Carr and Julia London

Sponsored by Tattered Cover Bookstore, Colorado

How to Join: The event will be live-streamed at Tattered Cover's YouTube channel. You can go there now and click the Set Reminder button. If you'd like Facebook to give you a reminder, as well, join this event.

• PREORDER THE FRIENDSHIP LIST: https://www.tatteredcover.com/book/9781335136961 - will ship worldwide. Every reader who preorders The Friendship List from Tattered Cover will receive a limited edition signed bookplate.
• BUY SUNRISE ON HALF MOON BAY: https://www.tatteredcover.com/book/9780778309482
• BUY A ROYAL KISS AND TELL: https://www.tatteredcover.com/book/9781335136978
NEXT ON THE VIRTUAL BOOK TOUR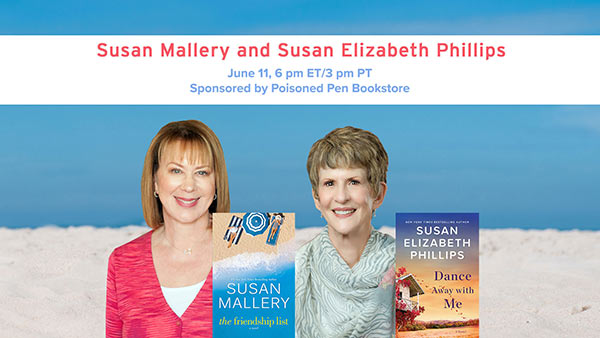 THURSDAY, JUNE 11
6 pm ET – 5 pm CT – 4 pm MT – 3 pm PT
AN EVENING WITH SUSAN MALLERY AND SUSAN ELIZABETH PHILLIPS

Sponsored by Poisoned Pen Bookstore, Arizona*

How to Join: Tune in live at https://www.facebook.com/thepoisonedpenbookstore/live! You'll be able to ask the authors questions in the comments.

• PREORDER THE FRIENDSHIP LIST: https://bit.ly/tfl-pp
• PREORDER DANCE AWAY WITH ME: https://bit.ly/dawwm-pp

The Poisoned Pen will ship books to Susan, so they can be signed and personalized before being shipped to you.

*Please note: due to circumstances beyond our control, this is a change of venue for this event. If you already preordered The Friendship List from Books, Inc, the previous venue, please email my assistant at jenel@susanmallery.com so we can connect with you personally.
Two best friends jumpstart their lives in a summer that will change them forever. . .
Single mom Ellen Fox couldn't be more content—until she overhears her son saying he can't go to his dream college because she needs him too much. If she wants him to live his best life, she has to convince him she's living hers.
So Unity Leandre, her best friend since forever, creates a list of challenges to push Ellen out of her comfort zone. Unity will complete the list, too, but not because she needs to change. What's wrong with a thirtysomething widow still sleeping in her late husband's childhood bed?
The Friendship List begins as a way to make others believe they're just fine. But somewhere between "wear three inch heels" to "have sex with a gorgeous guy," Ellen and Unity discover that life is meant to be lived with joy and abandon, in a story filled with humor, heartache and regrettable tattoos.
---