Posted February 11, 2020
Dear Reader,
In this Newsletter:
•    New book from Susan Mallery
•    Heartwarming Reader Stories
Sisters by Choice is out today—a brand new Blackberry Island novel
Sisters by Choice is a story about what it takes to reach for your dreams. Sophie Lane lost her mom when she was young, and it left scars on her heart that still haven't healed. How will she ever know if she would make her mother proud, when her mother isn't here to tell her?
Sophie started a business when she was in college, Clandestine Kitty. Through grit and hard work, she has built it into a cat toy empire—but if she wants to move to the next step in her life and in her business, she has to learn to let others in. I think a lot of us can relate to that feeling of trying to hold on tight to keep everything under control, trying to do everything ourselves to achieve our vision of how things should be. But when we learn to let others help, suddenly life gets a lot brighter.
Cousins by chance, sisters by choice…
After her cat toy empire goes up in flames, Sophie Lane returns to Blackberry Island, determined to rebuild. Until small-town life reveals a big problem: she can't grow unless she learns to let go. If Sophie relaxes her grip even a little, she might lose everything. Or she might finally be free to reach for the happiness and love that have eluded her for so long.
Kristine has become defined by her relationship to others. She's a wife, a mom. As much as she adores her husband and sons, she wants something for herself—a sweet little bakery just off the waterfront. She knew changing the rules wouldn't be easy, but she never imagined she might have to choose between her marriage and her dreams.
Like the mainland on the horizon, Heather's goals seem beyond her grasp. Every time she manages to save for college, her mother has another crisis. Can she break free, or will she be trapped in this tiny life forever?
Told with Mallery's trademark humor and charm, Sisters by Choice is a heartfelt tale of love, family, and the friendships that see us through.
CLICK HERE TO READ AN EXCERPT!
HEARTWARMING READER STORIES
I asked members of the Susan Mallery All Access group on Facebook to share heartwarming, feel-good stories about their sisters by choice. Here are a few that touched me:
"My sister by choice is my actual sister. We are 13 years and 6 days apart. She was due on my birthday and all day I tried to make my mom go into labor. I wanted her to be born on my birthday so bad. At age 12, I was my mother's birth coach, I went to all the classes with my mom and even received a certificate. So the day my mom went into labor was the best day of my life. Her water broke at home so my dad drove us to the hospital. Once we were there they wheeled my mom into the labor and delivery room, and I was right by her side. I coached her through her contractions, and when she said she couldn't go any further, I was there to push her. Well, once she started pushing it was only minutes before I got to watch my beautiful baby sister be born. As soon as she was out of my mom the Dr cut her cord and wrapped her up and handed her straight to me. I was the first person to hold my sister, and that made my entire world completely amazing. Since the day she was born we have a very special bond that no two sisters could ever have. My sister has been my rock especially when our mother passed away from stage 4 pancreatic cancer. Now my sister is married and has a beautiful and amazing little girl that I just adore." – Catherine P.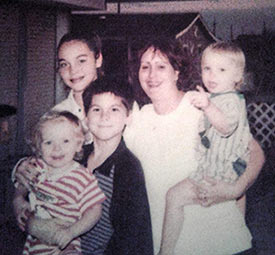 "My sister by choice is my best friend Jana. I never had children and I was able to be a part of her and her 4 children's lives. We have known each other for 43 years. She helped me get away from an abusive relationship. She supported me until I was able to get a job and get back on my feet. I am so blessed to be a part of her family that has included grandchildren. There's no words to describe how happy my life turned out! Jana doesn't like to have her picture taken. So I included an old picture of her children and me." – Jackie W.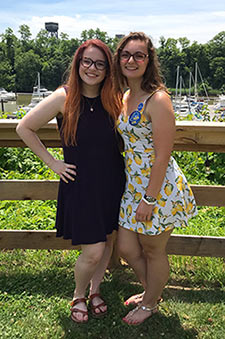 "My sister by choice is my childhood neighbor. Every day, for as long as I can remember, we went over to each other's house. Oftentimes I would call to her from my parents' bedroom window to check to see if she was outside. We grew up together and went through all of life's challenges together. We live in a very small town so when her parents divorced when she was 9 it really took a toll on both of us. We thought that we would be separated and wouldn't see each other anymore. However, when her parents split, her mom moved only five houses down the street. Eventually, I also moved but I moved less than half a mile away, so we could still walk to each other. Over time we stopped calling each other best friends because we knew we were more like sisters. Sisters by choice. As high school came, we took it on together and we car pooled every day. When college came it was difficult to imagine a day when she wouldn't be in my life, since we had spent practically every day together since we were babies. But I'm thankful to say that even though she is working towards her doctorate and I'm working towards my masters, we still make time for each other and go to one another's family houses for dinners and parties when life isn't too busy. I can honestly say that I wouldn't be here today without her. She's much more to me than a friend. She's the sister and brother I never had." – Rachel N.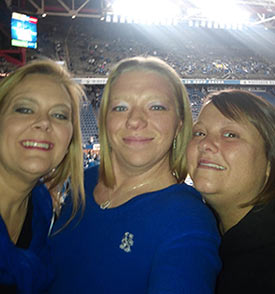 "I have 2 gals that are sisters by choice. One I met when we were in 4th grade. She was a new student upset about being at a new school and my mom made me go out and talk to her lol. Still bff's to this day and we are 40. The other is someone that was my boss at work but we became close friends quickly so quick I don't even remember how we did. But my late husband had to have surgery and at that time neither were working so they were at the hospital with me. Needless to say we were in ICU for 2 solid weeks and of course he didn't make it through. But they stood by my side for those 2 weeks and the 2 weeks afterward. I was hardly ever alone. One of them would stay the night with me and my daughter, helped with anything they could or that we needed. They stood by me when we got married then 7 months later stood by my side through one of the darkest times of my life. I could have never made it through without them. They have been through some hard times lately themselves and of course I was right there beside them through it all. Sisters By Choice!" – Martha P.
If you have a sisters by choice story you think would touch my heart, please email me. There's a "Contact Susan" link inside the Members Only area of my website. You'll see it after you sign in with your email address. I'd also love to hear how my books have impacted your life. I may just feature your email in an upcoming newsletter.
Happy reading—and Happy Valentine's Day!
---