Posted August 28, 2019
Dear Reader,
Wow! It's the end of August. How did that happen????? This year is just flying by. Sometimes it's nice to sit someplace quiet with no electronic devices nearby and reflect. I did that this morning, and it was made even more cozy because my cat Alex came over for a cuddle. I could feel his purring against my lap. Meanwhile, his neurotic sister Lucy was hiding under the end table, and our poodle Kelli was running off her energy at doggie daycare. Alex is my cuddler. He also likes to cuddle with my revisions. If I miss a deadline, it's not my fault!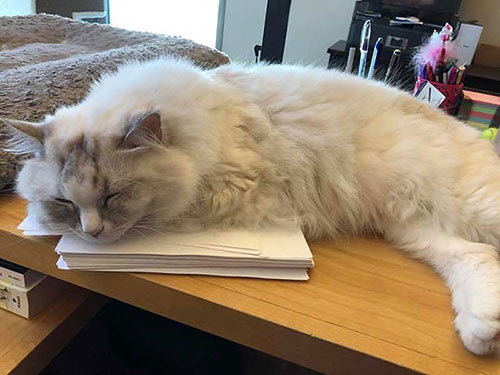 I have several exciting things to tell you about in this email. I know it's long, but bear with me because you're going to want to read to the end. Here's an overview to keep you scrolling, or so you can skip to the ones that interest you:
Have dinner with me on the San Antonio Riverwalk (Oct 4)
Feel Good Day (Oct 5)
Utah Readers Luncheon (Oct 12)
Meant to Be Yours Release Day/Millie the Giraffe Bookmarks (Oct 22)
Book signing with Nora Roberts in Maryland (Oct 26)
Texas Book Festival (Oct 26 & 27)
---
HAVE DINNER WITH SUSAN MALLERY
I'm coming to San Antonio for Feel Good Day (more on that in a moment), and I thought this would be a fun opportunity to invite a group of readers to have dinner with me on the Riverwalk—my treat! (The picture on the right is a group of lovely readers who joined me for tea at the Ritz in New Orleans.) If you'd like to join me, sign up for a chance now on the Contest page at SusanMallery.com. I can't wait!!!

FEEL GOOD DAY
The reason I'll be in San Antonio is to attend Feel Good Day, a one-day immersive celebration of what makes us feel our best, do our best and be our best selves. It's more than a getaway—it's an experience unlike any other to share with your girlfriends, sisters, mothers and daughters.
Learn more/get tickets at CelebrateFeelGood.com.


UTAH READERS LUNCHEON
On October 12, I'll be the keynote speaker at the Utah Readers Luncheon, a day to celebrate romance readers. I'd love to meet you there! I won't have any books for sale, but I'll be happy to sign as many books as you'd like to bring from home. There will also be lots of other wonderful authors there, lots of gifts, and even some raffle prizes. My raffle prize will make your jaw drop.
Learn more/get tickets at UtahReadersLuncheon.com.

BOOK SIGNING WITH NORA ROBERTS
On October 26, I'll be signing copies of MEANT TO BE YOURS (Happily Inc) alongside the incomparable Nora Roberts at her bookstore in Boonsboro, MD, Turn the Page. I'll have a very special gift for the first 100 readers who buy Meant to Be Yours: a limited edition Millie the giraffe brass bookmark! If you won't be there, don't worry. We'll also have 250 to give away in a preorder giveaway. So preorder MEANT TO BE YOURS now, hold onto your receipt, and watch my newsletters for details. Here's where you can preorder:
Also signing will be Katherine Center, Meg Tilly, Lee Tobin McClain, Carrie Ann Ryan, Sherry Thomas, John Bede and A.B. Gibson. Nora and her team have the signings down to a science—very well organized. Learn how it works: Turn the Page Bookstore

TEXAS BOOK FESTIVAL
I won't be at the Texas Book Festival in Austin on October 26 and 27, but my assistant will, and she'll have a stack of the giraffe bookmarks, too. You'll either be able to purchase the book on-site or show Jenel your receipt to claim your Millie the Giraffe bookmark.
Whew!!! Did you make it all the way to the end? There really is something in this newsletter for everyone. And now I'm exhausted and need another cuddle.
---