Posted April 14, 2020
Dear Reader,
In this newsletter:
• Big news about The Friendship List
• Giveaways & Virtual Book Tour—you won't believe who's joining in!
• Life with fluffy cats
What interesting times we're living in! (Is "interesting" the word for it?) I'm seeing so many beautiful things coming out of this coronavirus crisis. We're slowing down and reconnecting in whatever ways we can to the people we love. We're feeling grateful to all the people who serve our community, from the amazing frontline healthcare workers to the staff at the grocery stores who are stepping up in incredible ways. Thank you so much to everyone who is working hard for the greater good. Your work is important and valued.
BIG NEWS ABOUT THE FRIENDSHIP LIST
The Friendship List release date has been moved to August 4. We know that a lot of my readers prefer to read books in print, and so we're working hard to accommodate you by bumping back this release date. Right now, most bookstores are closed, and stores like Target and Walmart have other priorities, namely keeping tummies full and bottoms wiped. (Does everyone have enough toilet paper yet???)
If you preordered The Friendship List, you don't need to do anything. Your book or ebook will be delivered on the new date. If you haven't preordered yet, you can go ahead and do that now—a celebratory gift for August, when we hope we'll be able to move around a little more freely.
Two best friends jumpstart their lives in a summer that will change them forever. . .
Single mom Ellen Fox couldn't be more content—until she overhears her son saying he can't go to his dream college because she needs him too much. If she wants him to live his best life, she has to convince him she's living hers.
So Unity Leandre, her best friend since forever, creates a list of challenges to push Ellen out of her comfort zone. Unity will complete the list, too, but not because she needs to change. What's wrong with a thirtysomething widow still sleeping in her late husband's childhood bed?
The Friendship List begins as a way to make others believe they're just fine. But somewhere between "wear three inch heels" to "have sex with a gorgeous guy," Ellen and Unity discover that life is meant to be lived with joy and abandon, in a story filled with humor, heartache and regrettable tattoos.
GIVEAWAYS & VIRTUAL BOOK TOUR
I had been planning to go on book tour for The Friendship List, and was so looking forward to seeing many of my readers! I'm disappointed that it's been canceled, but I am absolutely thrilled about the adjustments we're brewing, and I think you will be, too.
Virtual Book Tour
My team is putting together some fun virtual events that you can join from the safety and comfort of home. I'm not allowed to tell you who the other authors are yet, but I can tell you this—I'll be joined by a real who's who of the women's fiction world. This will be an amazing chance for you to personally connect with the authors you love, and to get a little peek inside our minds. (I'll warn you: my mind doesn't always work in a straight line.) We'll have Q&As so you can ask us questions, and I've got really special raffle prizes lined up. Stay tuned to my newsletters for more details as the tour develops.
Goodie Bag Giveaway
I had been planning to give away a The Friendship List goodie bag to everyone who came to see me on tour. Now we're going to do a website giveaway instead. And because we have some extra time, we're going to put together 2,000 of the goodie bags. (That's not a typo. Two thousand readers will win this prize later this summer.)
LIFE WITH FLUFFY CATS
As many of you know, I am owned by two fluffy felines and their canine co-conspirator. Kelli (the dog) is a poodle, so she doesn't shed. But Alex and Lucy are another story. The other day, Mr. Mallery and I spent 2 hours cleaning. We vacuumed every surface, even the blanket and comforter. I sat at my desk and poof… a cloud of cat hair billowed from who knows where.
Here's the elusive and very beautiful Lucy sleeping in the cat condo in my office. I'm allowed to look but not touch. The floofiness on the right is Alex, who does allow pets and snuggles.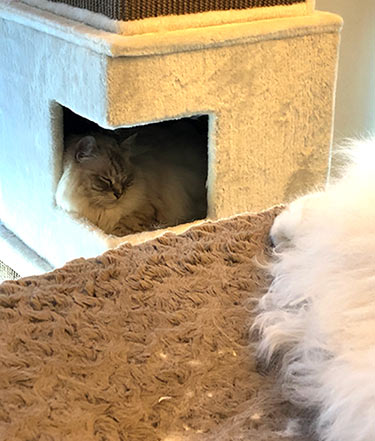 Kelli is also happy to accept belly rubs. Speaking of Kelli… I'm in the weird position of being jealous of my dog. It's been determined that doggy daycare is an essential business in Seattle, so she gets to start going back again. I miss hanging out with my friends.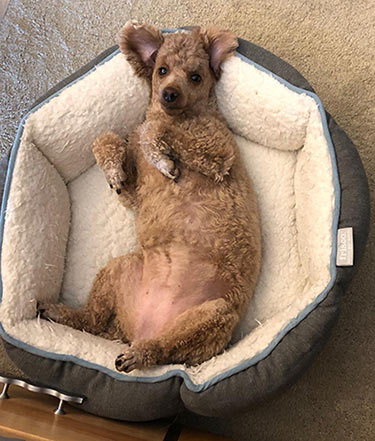 That's all the news from me! Stay safe, stay healthy, stay home… and escape into a good book.
---